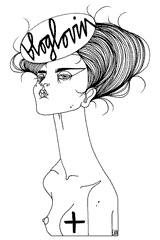 Hello, ma' sweet fashion addicts! Today I want to start with something bright. It's all spring's fault! I am jast magnetically attracted to everything colorful and bright!
This is a look from ELLE France March issue, and I love every piece of it.I just love that belt and how it creates a stunning silhouette.
Secondly, my pleasure is to introduce two Ukrainian bloggers. Coming from Ukraine I am just extremely proud to see such pretty, stylish, and pretty from inside out girls, who openly state their identity and perfect taste!
The first one is
Purple Box
blog, where unbelievably beautiful red-haired Alina shares her life and stunningly photographed looks with her readers.
Second, but not least, is Anna from
Fashion Obsession
. She writes a lot of personal things o
n her blog. And writes them well and very interesting. Too bad some of you won't be able to read them as they are written in Russian...Anyway, whom I am talking to? You, kids of the 21 century, can use Google Translate! ;) She looks gorgeous too, check her out!
Have a great Friday!
xoxo